She always looks at herself in the mirror differently than I ever did.  I catch her every now and then, gazing at the mirror, practicing different smiles and ways of holding her shoulders back with her head up and a smirk of pride crosses her lips.  A smirk of pride crosses Brennan's face when she sees me notice her looking in the mirror and instead of being flushed with shame, her eyes glimmer and she tries a new pose.
No, that wasn't really my experience with the mirror, even at 5.  I was never really comfortable in my own skin, not until much later at least.
But here she is, a daughter born from me, my own blue eyes and freckles and sass walking through the world as if it is hers.  Here she is, unaware of any reason, any reason at all, why she should not love what she sees.  "Well, of course, Mom," she seems to say with those twinkling eyes in the mirror, "Of course I can be a ballerina and a teacher and a mountain climber and maybe even the President and wear sparkling shoes while doing it.  Of course, Mama."
"Baby," I ask her one day, "What do you think when you look in the mirror? What words go through your brain?"
"Pretty!" she exclaims without even missing a beat of her heart. "And beautiful! And important!"
"Well baby girl, of course those should be the words to go through that smart and beautiful and funny and a little bit sassy brain of yours. I agree, you know."
"And so does Daddy!"
"And so does Daddy."
See, still even, I look in a mirror and all too quickly I am fourteen again, sitting in my parents kitchen with my best friend in the first few tender weeks of high school.  She begins to giggle and I ask her what happened and through her laughter she talks about Spanish class that day when she told a boy that she was going over to my house after school.  "Oh yeah?" he had said to her, "You're friends with Sarah Huge?"  It wasn't the boy that said it that stung, I knew even then he wasn't worth my tears.  It wasn't that for the first time I felt made fun of and insignificant and less-than.  It was that through her giggles, and not through an indignant diatribe about the wrong committed to her best friend, she narrated the story of a boy calling me huge.  It felt like an endorsement of what he said.  It felt like she thought the same things too.
I have always been trying to prove them wrong, I suppose.  The gym, the counting calories, the mind games with the mirror, all of it, I know, because that voice is always right there, huge, huge, huge, don't you know you're actually just huge?
I started to learn how to hush that voice when I met a boy who eventually asked me to be his for the rest of his life and he told me I was pretty.  Oh, I was never able to silence it completely, and believe me I tried, especially as I grew three babies inside of me, one at a time, and watched the number on the scale go higher and higher and then they were born and my body got squishier and squishier.
And then wouldn't you know we had three girls.  Me, a girl, who battled with her femininity her whole life; me, a girl who wasn't quite sure how to be brave and confident and darling and sexy and gentle and fierce and fully and completely me because of course I am amazing, is now raising three girls teaching them just that.  Lane and I now, together, wouldn't you know, get to raise these girls to believe just that.
You'd think that by the time you're a mom you have these kinds of things figured out, but I've found that it's more of a learn-as-you-go process.  I teach them who they are as I remind myself the same.
And after fifteen years together and after three babies and as we inch further and further into our 30's side by side, Lane sees things in me that I haven't been able to see.  He is the one to catch me looking in the mirror, analyzing my squishy parts or how my jeans fit or this or that or the other that I can always find, even now, and he is the one to turn my face and say "You are beautiful just the way you are."
And the more he reminds me the more I listen and the more I listen the more I believe him.
Oh sure, there's probably women who'd say I shouldn't need a man to make me believe I am beautiful and worthy and important just as I am.  That the love within me should be strong enough that it wouldn't need to be buffeted by an outside voice.
Here's the thing though, it was never actually his words that did the changing of my heart, helping me to see once and for all that I am beautiful just the way I am.  He simply became a mediator for what I could not see myself.  It wasn't him, not him exactly, that really ever changed me.  It was his words pointing me again and again and again once more to how God sees me: Enough and loved and brave and strong.
He's just been the bullhorn in my life: You're fine! You're fine! Don't you know it yet, what you've been given is just fine!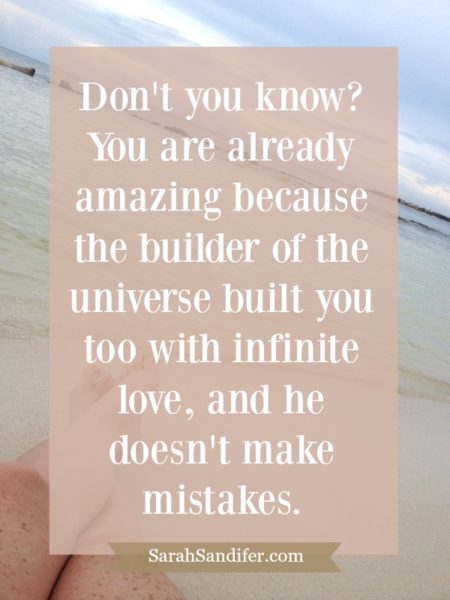 Don't you see?  It was never the love of a man that saved me, that gave me my confidence and worth- it was him turning my face to the heart of God enough times that I finally gave in and believed him: I am beautiful, just the way I am. Finally at 33 years old and three babies born from my body I am more comfortable in my own skin, my own worth, my own story more than I ever have been.
Sometimes all it takes is listening to the voice of love and truth more than the voice of mean boys in the ninth grade, or the cutting remark of a friend or our mom or the neighbor across the street.  Sometimes we just need someone else to remind us of who we really are, what they really see, for us to step forward into that instead.
So today, friend, let me be that voice for you: You are already amazing because the builder of the universe built you too with infinite love and care and he doesn't make mistakes.  You, my dear, are beautiful just the way you are.  You, friend, are pretty and important and funny and a little bit sassy and if you never lose those last ten pounds or never dye your hair again or never get that thing done that you've always wanted to do, your beauty will still be just as true.
So now lets be that voice for our boys and our girls and our sisters and our friends who need to hear it.  Lets call them forward into who they are meant to be and remind them of the good and the beauty and the amazing that they already are.
Because here is my girl, looking in the mirror, unaware of any reason, any reason at all, why she should not think she is amazing and I want to be just like that.
Don't you?