The thing is, love is just so big and wide and deep.
Love was there in the silence as nothingness swirled in the mist and love was the first word spoken over it all and love is the banner over us and love never left and love is what came down to show us what love looks like with flesh on.
Love carved the canyons into place and love built the mountains just so and love tilted that grand earth on its axis so that we could have snowflakes and sunshine within the same year.
Love created Tuesdays and hedgehogs and aspen trees and the shimmer across a lake at sunrise and the heartbeat in your baby's chest as she falls asleep against you.  Love created that crinkle in your toddler's nose and the laughter that belts out of your husbands body when something is just hilarious and the dimple on the small of his back that only you know about.
Love is just so big and wide and deep.
Even on that day when that baby wouldn't stop whining- the day you were late and the kids were fighting and you couldn't get breakfast together because the baby was crying at your feet and you marched her crying self into her room, plopped her in her crib to cry by herself with the precious parting words of: "You suck."
Love is big enough for you.
Even when you resent your husband in his kindness- that day he did the laundry for you and you yelled at him, sure it was an indictment on your lack of domestic abilities.
Love is big enough.
Even that time that you put walls up with your girlfriends, sure you were too much of a mess for them.  Sure that your facades of perfection would come crashing down the second you showed them the real you who yells at her kids and fights with her husband and feels like she's failing at this mom thing so you just stopped hanging out with them instead, sure that loneliness would be better than being found out.
Even then, love is big enough for you.
It doesn't require that you have your act together, it doesn't ask that you look a certain size, eat a certain way, belong to a certain group.  It doesn't fit our boundaries of us and them, in and out.  It doesn't care about the number on the scale or the number on our mortgage or the side of the tracks we live on.  It doesn't need you to prove your worth, prove your value, prove you deserve love or how good of a mother you are or how good of a wife you are or how good of a body you have or how much you can contribute to a conversation.
Love is big enough for all of that, too.
Love was with you in the beginning and was with you in the mess and is with you even now.
You don't feel like love is big enough.  You know how big the mess is, how you really talk to your kids when no one else can hear, the things you say to yourself when you look in a mirror, the ways you resent your husband.  You know the things that other people don't, and you wonder if love really is big enough.
It's why it feels so good to hear other people say "You are enough." It's why you can't stop reading articles that say you can do hard things and everything you need is inside of you and to carry on, warrior.
Because these are a pep talk and keeps the focus on you and in the middle of our mess a cheerleader section feels pretty good.
It doesn't last.
It's a hit of a drug, a spike of sugar, an energy drink to get us through an hour.
It's not enough.
You're still going to wonder why it feels like every day you're just surviving with your kids, you're still going to snap at your husband over the same things, you're still going to feel not pretty enough and not good enough and not wanted enough and not enough and the cycle will keep on spinning.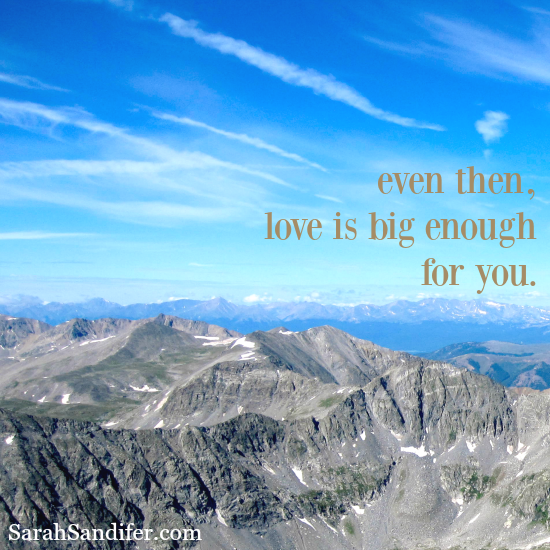 Until you find something bigger than yourself to tap into do you actually discover what it means to be enough.
Darling one, it is only because love is big enough that you are enough.
And the love that does and the love that forgives and the love that moves toward the other and breathes before speaking in anger and sits in solitude in the morning and goes to remote places to pray and seeks out joy in the mess and gratitude in the hard and finds purpose in the darkest moments and abundance in the ache is the love that we tap into when we open ourselves to this big love.
It is the model that Jesus himself set- big love and big grace and peace and goodness and kindness and the willingness to leave the ninety-nine because that last one was just so very important too.  But he also showed us the effort of abiding in the heart of God.  It is when we do the work that we actually become like this love.  So we get into community- radical community that will challenge us, we find rhythms of rest and sabbath, we study scripture, we get outside, we take long walks, we pray, we do the things that Jesus did when he was here, really.
And our mothering finds purpose and our marriages find grace and our souls have a little more weight to them to not get capsized when the seas get stormy.
We can't heal our own wounds, we can't bind up our own broken hearts, we can't make a way in the desert or breathe healing over the broken places or get our souls to the rock that is higher or show our hearts once and for all that we are wholly loved, faithfully guarded, creatively sung over always and again.
Even when we are small and broken and insecure and angry and tired and overwhelmed
Love is just so big and wide and deep
And that is what's enough.
xo.