Hey husband.
I finished our carton of ice cream last night while watching the Gilmore Girls.  I feel like you should know that.  I sat on the couch, the carton and spoon in hand, and finished the whole darn thing without even thinking twice.  Then, without even straining my neck, I looked around and saw a rocking horse toppled over on the carpet and one lonely tennis shoe on the floor of the kitchen and a coloring book on the breakfast table.  I sat here tonight and as I heard the white noise of the monitor and as I listened for the sounds of our babies, I began to absentmindedly play with my wedding rings.
I do this sometimes- twist my ring around and around when I miss you.  You weren't here, you know; you were at work.
You've been at work a lot lately.
Do you remember that wedding of ours though?  When you gave me this ring?  I mean, do you remember it?  It was a great night.  A great night.  I walked toward you and we stood at the front and they presented us for the first time as husband and wife and all of the people cheered.  You gave me a ring and I gave you my heart.
A lot has changed, huh?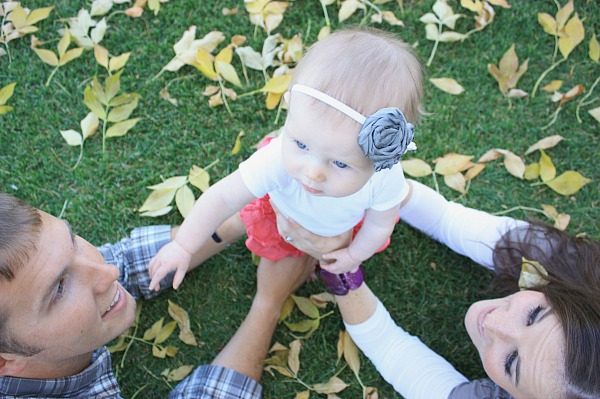 Because now we're twelve years in and three kids later and I'm sitting on the couch eating ice cream while you work your long hours that you're going to work this year.  I know I sometimes take it out on you; sorry about that.  You bear the brunt of all of my overwhelm, my stress, my exhaustion.
And now tomorrow is Valentine's Day.  The day set aside to celebrate all things love.
Happy Valentine's Day, babe.
Sometimes Valentine's Day has seemed a little silly to me, honestly.  I don't know, I love all the love but I also want to make sure the love is there the other 364 days of the year, you know?
So here's what I did: I looked through our other days of the year and this is what I see:
I see you helping get shoes on the girls before we head out the door.
I see you beating me at rock, paper, scissors when we're deciding who has to go upstairs and get the kids to bed already.
I see you doing the dishes when I'm flopped on the couch, exhausted.
I see you come home at 5:30 when I know you had enough work to keep you there till 7:00.
I see you taking my car for an oil change because I'm 3,000 miles overdue.
I see you doing more than you need to so I can do less.
I see you showing the girls how to be brave but then getting down on the floor to have a tea party that same day.
I see the glint in your eyes when we get outside.
I see you choosing me time and time and time again.
You know what all of that looks like?  It looks a lot like love.  
Real love.  Actual love.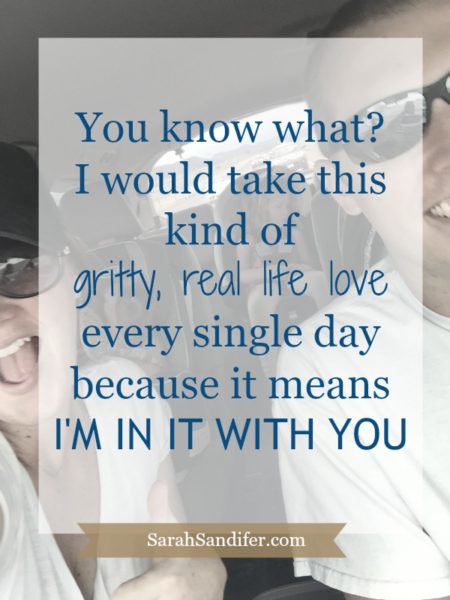 Authentic for better and for worse, for richer and for poorer, everyday I choose you both this day and every single one after it kind of love.
Twelve-years-in and three-kids-later kind of love.
Life is wild but we're in it together kind of love.
We don't know what tomorrow holds, but I'll be holding you kind of love.
For the love, our kids are crazy kind of love.
Because yes, love is big like our wedding, but right now love is also small like baby monitors and high fives in the kitchen after we nailed it with a discipline decision and a text message at 2:30 on a Tuesday.  Right now love is 8:15 on a Friday night with a pizza box on the counter, 7:00am on a Sunday morning with our coffee cups in hand, 6:45pm on a Wednesday as we search the house together for a lost-and-then-found bedtime lovey.
Yeah, things have changed a bit since that wedding day of ours.  But somehow, in loving you through each of these small moments, our love feels bigger than it did back then.  Deeper, truer, weightier.
And you know what?  I would take this kind of gritty, real life love every single day because it means I'm in it with you.
So babe?  This right here?  This is me saying I chose you then and I choose you now.
This is me letting you know that I see you.
This is me letting you know that I am so glad you're my Valentine.  Even when it's crazy.
I love you.