Twelve years in with this man, and I'm still finding my way.
So much about love seems like it should light up the world, ain't no thing.  Sure, some bumps at the beginning when we're young and new at this and new at being parents and making ends meet but sometimes not.  Sure, there are some battles as we learn how to live with this one other person, but once we cross those, man, it's time to shine. Enjoy the ride, love wins.
Is this what I was expecting?  Yes, maybe, I think so.  We knew each other, we loved each other, we said the "I do's," and the "I will's" both this day and forever after that.
And then life happens, as it inevitably does, and it just becomes too much.  Too many demands on our time and our hearts and our plans for the future.  Too many tiny babies running around underfoot demanding our everything, too many meals to make, too many heartaches to process, too much work stress and family stress and all of it again the next day.
Too much to give; I can't do it all no matter how hard I try.
And he is the one that bears the brunt of it, honestly.  I try to bottle it up, contain it so I don't lash out at him, but the irritation leaks out.  I know it's the other stuff going on, really I do.  I know that I'm exhausted and overwhelmed, but it's his little habits that just send me over the edge.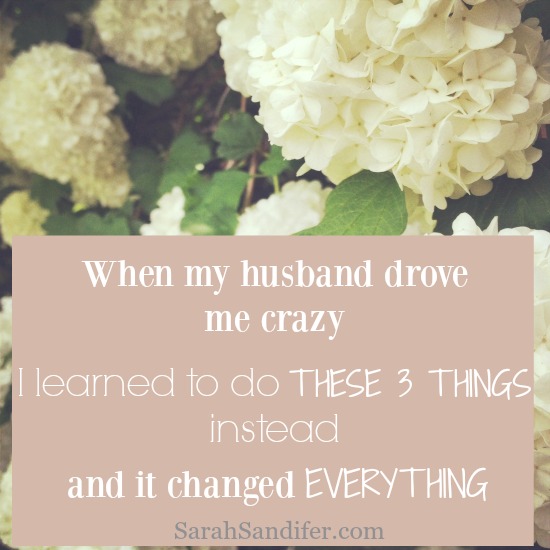 I make soup one night on a freezing cold day.  Perfect, I think.  It will be warm and cozy and will create leftovers for lunch for the rest of the week.  I am a good wife.  A loaf of sourdough bread sits at the table too, of course; that's probably all the babies will eat anyway after seeing kale floating in their bowls.  Soup, they don't really do.
But soup is perfect on a cold day, so this is what I make.  After much battle on this very subject, I have decided not to make them mac and cheese each and every night and an entire other meal for Lane and I. I choose what we all eat now, bring on the dinnertime meltdowns. I am a good wife, after all. I deem myself a pretty good mom too.
He walks in the door from work, right on time but a little distracted, and stands at the kitchen counter replying to a few texts.
"Hey, baby." I say, stirring the soup.
"Um….hold on a second… hi."
Work is stressful right now, I know. I remind myself again that he has a lot on his plate.  But really?  Couldn't he have finished those texts in the car before coming in?
He runs upstairs to change while I finish getting everything to the table and we all sit down to eat.  We chat about our days, do highs and lows, play a few dinner games courtesy of Chick-fil-A.
He's eating his soup with his teeth.
Absolutely not.  Not at my table.  But I am a good wife and a loving person so I deem this too inconsequential of a moment to get upset about.  I don't say anything, but the list begins to grow- Didn't kiss me when he first walked in, texted instead of playing with the girls, didn't help get dinner on the table when I was clearly threadbare and stressed, EATS HIS SOUP WITH HIS TEETH.
And this right here is when love becomes a little difficult.  It's easy to love when it's easy.  Anyone can do that.  Love's needle moves from average to extraordinary when we make the choice to love when it's hard, too.
I didn't think that I would get annoyed when he put the spatula away in the wrong utensil drawer, I didn't think that eating soup would send me over the edge, and I didn't know how easy it would be to take all of my broken pieces and heap them onto him declaring "It's yours, you know- it's your fault. You hurt me, you weren't there for me, it's your fault, it's all yours."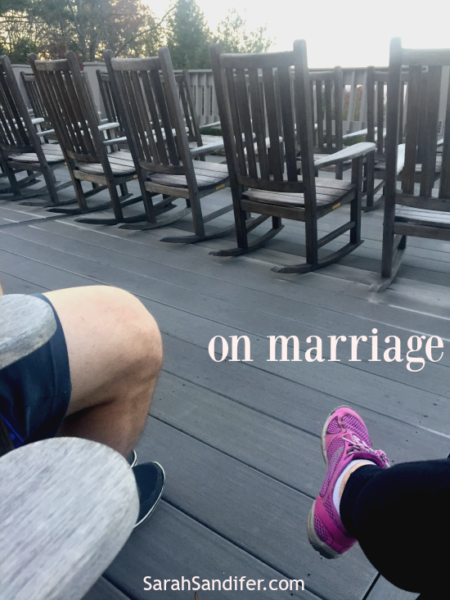 Yes, marriage can put two hearts to the flame and reveal what is really there: I am a jerk.  So after nearly twelve years of trying to change Lane, I've decided to stop.  I've finally decided that if I can change anyone in my marriage, I can change myself, so this is exactly what I do.
1. I inventory my life and discover the triggers that make me stressed out, exhausted, empty, or overwhelmed and I ruthlessly get rid of them.
2. I stop keeping track of Lane's failings, habits, and faults- he has a clear record in my book; this act mostly liberated myself, ironically.
3. I choose to view life through the lens of gratitude.  I choose to notice what he did, what he does, who he is.  I choose to see how he loves me- what he actually does to love me.
And here is real love, friends: It is a love that chooses each other when it's easy and when it's hard.  Love that chooses each other in those seemingly inconsequential, seemingly insignificant moments like eating soup at 6:00pm, and in the big moments we we let each other tenderly hold our broken hearts, and then at the end of the day whisper "I'll do it all again tomorrow."
The magic of marriage is that there's nothing magic about it.  It's putting dishes away and eating meals together and chasing after crazy kids and walking through this broken world side-by-side trying to leave it better than we found it and surprise of all surprises: It's a lot of work.
But the thing is- I've learned that love is limitless, when it's not ours that we're giving.  When we realize, finally and completely, that this is indeed too much, but we love anyway, choose each other anyway, show up anyway, we begin to tap into the love of Jesus that never dries up.  Even when Lane irritates me, even when he lets me down or annoys me somehow, I've learned how to love him as God does: Always, no matter what.
It is here that I learn that marriage isn't really about me after all.  It's not about keeping me comfortable, or happy, or irritation-free.  It's about choosing each other, taking a step toward each other ever single moment of every single ordinary day, and as we love each other always and no matter what, we do indeed shine a light in the darkness.
Twelve years in, and we're finally finding our way.
xo