Sometime in the 1 o'clock hour the other night, a child began crying for me.
Well, no, it wasn't crying, exactly. It was screaming bloody murder.
I have always been a little impressed when a parent can go from fast asleep dreaming to racing down the hall- both to tend to the restless child, but also to mitigate the chances that those screams could wake up a sibling. It is this fear that drove me to Mae's room in a flash that night, running to my baby who was wrestling with another pure, unadulterated fear of her own.
She had her first bad dream and there was no smooth-talking I could do to assure her two-year-old heart that there was not, in fact, a mean kitty prowling around her crib.
"Mae, baby, there's not a kitty-cat in your bed. You're safe. Mama's here. Don't you see?"
"No kit-cat?"
"No kitty-cat."
But then she backs herself into the corner of the crib, unable to think clearly once again, pulled back into the fear, screaming "Kit-cat right there! Right there, Mama!" She throws her pillows and babies and blankies all around the crib, out of the way of the terrible, prowling kitty-cat. We go round and round for about fifteen minutes and when I realize that there is absolutely no way I can get her to go back to sweet sleep in her own crib, in the name of trying to get a few more minutes rest, I resign myself to bringing her into our bed.
Initially, I am hopeful about this. Initially, it seems precious- Daddy on one side of her, Mama on the other, standing guard as we all three sleep, her breaths rising and falling with my own.
And then it is not precious at all.
For the next two hours, I watch the minutes tick by as a two-year-old slaps my face.
"Eyes?"
"Yes, Mae. Go to sleep."
"Nose?"
"Yes, Mae. Night night."
"Eyebrows?"
"MAE."
I begin to get angry- the kind of angry that can only settle into your heart after 2:00am when I would rather be sleeping than dealing with a child who refuses to sleep. I resent nightmares, I resent Lane who is somehow fast asleep next to us in all of this hullabaloo, I resent Mae who doesn't seem to understand the basic principles of a bed- she is practically laying on top of me, with the entirety of the rest of our bed completely free. Scoot over, child.
At this moment in time, I do not enjoy mothering. I enjoy sleep. I enjoy peace. I enjoy waking up in the morning rested and ready for whatever life throws at me. At this moment, as I'm wrestling a wide-awake toddler while the moon is high above, it all just seems so hard.
Harder than I signed up for, really.
It is this inner battle, I think, that I wasn't prepared for in motherhood. Oh, I knew that motherhood is sacrificial and you give of yourself and you put their needs above your own. But every single day?
Oh, I'm prepared to sacrifice myself for someone else maybe one time. But anything beyond that is beyond me.
Because these children, they need me every single day. Even the nighttime hours are theirs to claim should they need it or want it; there is no clocking out, there is no pause button.
And it's this constancy that I find is the hardest part of motherhood for me. It's not "I'll serve you one time when I feel like it," it's "I'll serve you again and again and again and one more time too, what do you need?" They need help always, they need me always. Someone needs to find a shoe when someone needs to go to the bathroom at the same time that someone else is starving and right after someone needs to tell me something really important. And then they need help with homework and then they need justice carried out and then they need to cry on your shoulder because a friend hurt their feelings.
And I'm still tired from the night before.
Oh, it's easy to put someone else's needs above your own one time. Anyone can do that.
Anything beyond that is beyond me.
This is central to mothering though- that it demands a limitless love from a limited woman, requiring me to offer what I do not have to give.
First reactions? Exhaustion, bitterness, resentment, building up a facade that I have it all together when I fear that I am the only one who does not, in fact, have anything together.
Second reactions? Let us shout liberation from the rooftops, dear women of the earth. I don't have enough patience, strength, creativity, grace to parent these babies- freedom! I don't need to try so hard to manufacture something I don't have to begin with.
I think I finally accepted this that night in the bed with Mae. I can't do this. It's too constant, too hard, too much. It's an endurance race without a finish line- demanding and exhausting and yes, intrinsically sacrificial.
And I'm finding, finally, that it is beyond me.
Once I accepted this, threw my hands up in exasperation, the unintended consequence is that I discovered joy.
The thing is, it was right there all along- in the sunrises in the morning and yogurt faces after breakfast, in the toddler climbing up on my lap and the six-year-old grabbing my hand on the walk to school, in the checking the mail and dancing in the kitchen- I just didn't have the eyes to see. I was too busy thinking it was in a full eight hours of sleep at night, perfect behavior and penitent hearts, children who eat their vegetables without complaining.
I can't control any of that, try as I might, and when all of my energies went to modifying behavior, all I did was crumble. I never signed up to be a behavior modification specialist as it turns out- all I want to do here and forever after is to captivate their hearts with love. To point out the sunsets painted across the sky just for them and the creativity in the vastly different species of trees and jump in a puddle in the rain and not even care a lick that it got my pants dirty.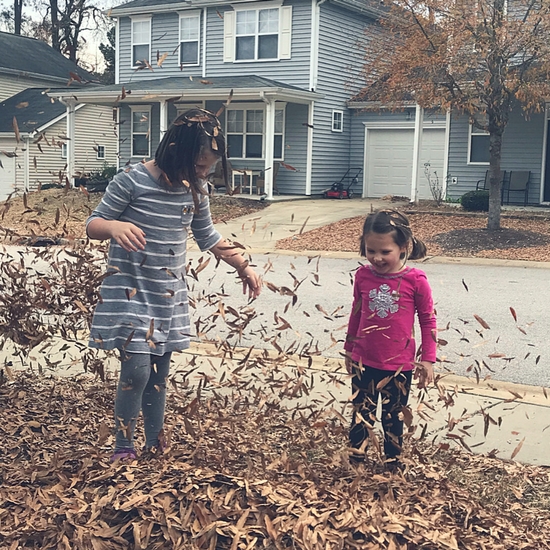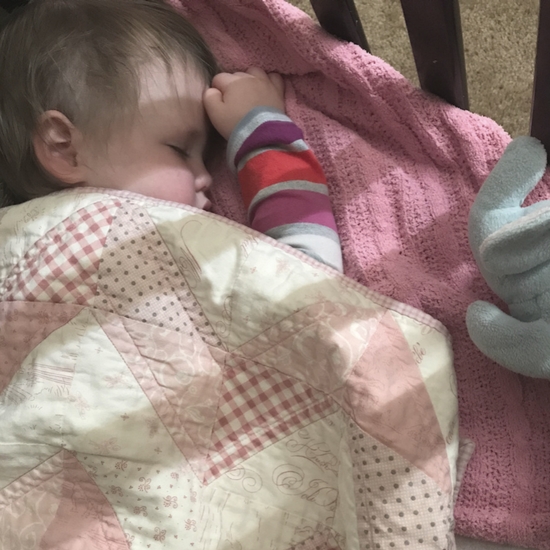 This liberation means I don't have to compare myself to anyone anymore, finally accepting us as we are and where we are. I don't have to parent through control- fearful of a ball that's going to drop at some point in time. I don't have to be embarrassed when my two-year-old is acting like a two-year old. She is, after all, only two.
I was only able to find this freedom when I admitted this whole mothering life is harder than I can possibly handle.
And I think this is helping me mother these children. It's helping me parent with the long-view in mind, recognizing that heart change is a process not a moment. It's helping me parent them with grace, when I no longer demand perfection from them. And you know what? It's helping me to enjoy it all- them, mothering, our days together.
Oh, it's still hard work, this mothering business, there's still work involved in being built up and I still feel so limited when it's all said and done.
But I don't have to fight against it, I just have to see it for what it is- normal. And in it's most sacred form: A way for me to bring a little bit of heaven down to earth in my corner of the world.
I no longer have to worry about not doing enough, being enough, not having enough love to go around- I'm off the hook on that one. Instead of trying to manufacture something I don't have, I've learned to come to Jesus again and again and again, in the early morning hours before I start my day, in that moment when I want to yell, when I have no idea which step to take next, when I'm a little bit scared, always.
It's here that I'm finally able to tap into this love that is beyond me
And I'm finding that this fierce and tender and with-us Jesus is a pretty good resource-
He kind of wrote the book on limitless love.
xo
---
Looking for more encouragement? My favorite place to hang out is over on Instagram. Come join me over there!