The car wouldn't start this morning. A simple problem in the scheme of things, a first world problem really, as they say.
But nonetheless, it was my engine that chugged, my car that wouldn't turn over, my schedule that got rearranged that day.
And so I sit in the front seat, hoping against hope that this time I turn the key, this will be the one that starts it. I place my hands on the steering wheel, whispering kind but also not-so-kind words to my trusty van who now doesn't feel so trusty, as I turn my right hand and the broken engine still chugs. From the back of the car, backpack on, says the first grader- the firstborn, first in line to first notice what's going on: "By the way, mom, we're now going be a little bit late."
Thank you, child. I'm not sure I was aware.
This "by the way" phrase is one that she uses liberally, in all situations, in the way children do when they first learn a new word that sounds big and important and old.
"By the way, I'm going to have cereal for breakfast today."
"By the way, mom, sometimes a g sounds like a j, did you even know that?"
"By the way, a rainbow needs both rain and sun in order to appear."
We go back in the house, my daughters and I, as I trouble shoot and problem solve and think through the ways I can get this thing fixed. I open my calendar to find a window to take it to a shop and am slammed with the holiday programs we need to go to, the to-do list scratched on the right that's not near complete, the final presents I need to buy and wrap and mail to get to someone else's door in time for Christmas.
A broken car? Right now? Really?
By the way, I'm pretty sure I'm stressed.
Later, Lane walks in from work- a little bit stressed himself, a little bit exhausted, busy and overwhelmed and a little bit broken himself, honestly.
So much going on right now, we lament. We begin talking about the Spring and how that pace might not be much better than the one we're in right now. He says he'll probably be home for four Sundays between January and May and then he pauses. "Nope," he says, "That might even be too much."
"Four. Four is an OVER-estimation?"
And so it's the car, but it's also more, as life tends to go. It's one thing but also the thousand others behind it all happening at the same time.
Fires blaze across California, political words said across oceans could ignite the world, marriages up in flames, sick babies rocked in their mama's arms in the hospital and in the refugee camp alike singe all of our hearts. Is the world just all on fire?
We look at the fires the wide-world over because we can't look away and our own hearts get burned in the process.
Do you see it too?
What in the world can we do to get this thing fixed, we wonder?
And so in our brokenness and in our exhaustion and in our grief we keep our eyes on the lights, the fires, the shiny places, hoping to find something that can fix it all.
I'm finding this Advent season, though, that we might be looking the wrong direction.
Israel found herself in the same position while they were waiting for Messiah. How broken they felt, how exhausted they were, how desperately they longed for a King.
And oh, he came; he came alright. But it was when they were all busy looking the other way that love quietly came down in the ordinary, dirty manger of all places.
We're never going to find hope, to find peace, to find joy and strength when we keep our eyes on the world on fire.
Love doesn't work that way.
Here's what real love does: It shows up where it's least expected, igniting our hearts in a way that only love can.
We find the love that can make a way when we never lose hope that love will always make a way.
See, our God is not thrown off by this world on fire. He's been making a way through these flames from the beginning of time.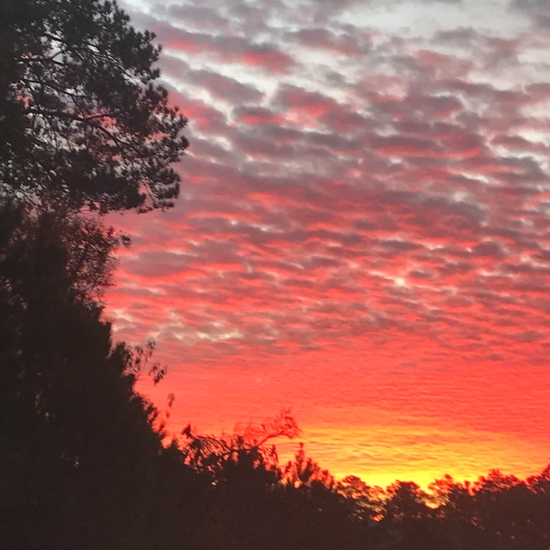 And you know, I think we're supposed to feel this heaviness, this darkness from the smoke, this longing for something better. Maybe we're supposed to feel the ache.
Maybe instead of brushing it aside with the next thing on our to-do list or the next news headline or the next party, we let ourselves ache for the One who makes a way in the desert and streams in the wasteland.
I think we can do this well. I think that we can wait well and feel the ache well with peace and I think we can still show up. I think we can stand on our gritty, fierce hope as we rejoice along with the weary world, awaiting for a new and glorious morn.
How do we do that, you wonder?
We begin by looking for healing in the places where we least expect it.
By the way, that just might be a manger.
xo
---
Looking for more encouragement? Here's a little bit quietly delivered right to your inbox once a month.