I sit in the medical office, just a routine visit, I'm fine- really, and she begins to check off my medical history: Heart surgery: No; Smoke: No; Drink: Well, I do need a glass of wine every now and then because of the wild and crazy babies, does that count?; and on and on we go.
"Any health conditions present themselves in the past year that I need to know about?"
"Well, I did get melanoma last March," and for the first time since I walked into her office, her eyes shoot up and look at me as if she finally realizes I am actually there.
"Melanoma? You did?"
"Yep, right there on my neck."
"Oh, wow.  I just can't believe that.  Yeah, melanoma's not something you want to mess around with; that can take you out."
Let's just go ahead and file that under things not to say.
I swallow my knee-jerk retort and choose to laughingly brush it aside (because can't you cover up fear with humor?) to say "I know, but really- I'm super healthy… just except for that whole cancer thing."
We side-step the bomb of the cancer revelation I just laid at her feet and go on with the appointment as if there were no scar on the back of my neck from when they cut me with a knife, long and deep and wide, to make sure they got all of those invasive cells.
Because that's what they can do with certain cancers, skin cancer included: just cut it out and poof! It's gone!
2016, the Year of My Great Undoing, was also the year I got cancer.  Those two occurrences, perhaps unsurprisingly, are intricately linked.  It was just skin cancer, I told myself over and over.  There are others that have to get actual radiation and actual chemotherapy in order to get rid of it; you just get a scalpel and a righteous scar and it's like it never happened, I told myself.
Then why did it wreck me so?
I got cancer last year.  It started with an itch on my neck and by the time I finally got into the doctor it became "If you had waited even a few more months to come in, we'd be having a very different conversation."
And his words replay and replay and replay in my head.
He says those words to me and my eyes fill with tears right there in his office and I choke out: "Oh, it just can't go that way.  I have three babies, you see.  It just can't go that way."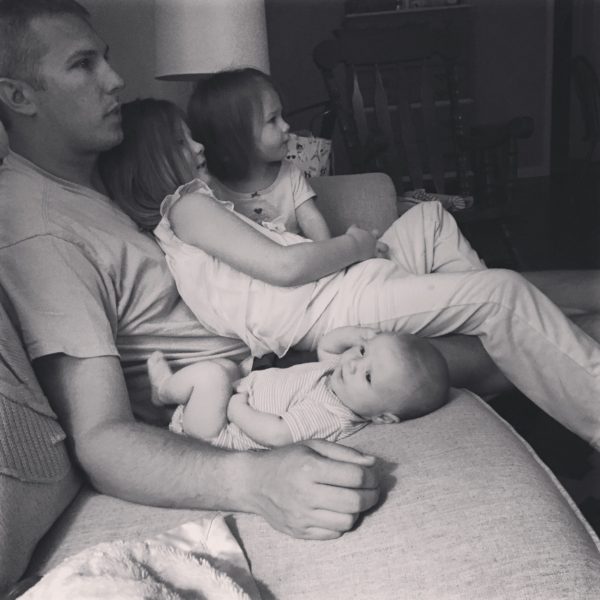 And I think of these babies and I just can't imagine them being without me and so I decide to control everything around me- the grains and the sugar and the toxins in our water and our makeup and our lotion and no sir I cannot have a bite of that graham cracker, it has sugar and cancer feeds on sugar, you see.  No matter how hard I try though, these bridges I build to prevent me from walking through hard things give way and we do indeed continue to wade through hard things because that is life.
I've probably had low-grade anxiety off and on for ten years or so.  I was a nervous child, scared and anxious and fearing something always, but grew up and met a boy and put all those fears on the back-burner because intoxicating love has a way of making you forget all the negative things you once were, at least for a bit.
And then that boy went to war, again and again and again.  He put his actual hands on bad and scary people and knew things only top-secret clearances let you know and I don't think I slept for three years straight.  I'd wake in the night and tremble in the dark and couldn't see my way out.
But then I eventually would find my way out and think "Oh, Sarah, you silly girl.  Look at how scared you were but now it's day! And now he's home!  You're fine, you're just fine, everything is going to be fine.  Just don't think those silly scary thoughts anymore."
And so the story went for years and years: I'd spin in and out of anxiety, dismissing my fears and my worries and laugh away the panic attacks, thinking I was silly or worried or actually had something wrong with me but who wants to deal with that, so dismiss dismiss dismiss, never dealing with anything that was actually off with my mind.  Everyone gets panic attacks, right?  You're just normal, this is normal, don't you think this is normal?
The anxiety simmered through pregnancy, simmered through my early days of mothering and actually becoming responsible for the tender lives of others and simmered through ordinary daily activities, whispering in my ear all the things that could go wrong, keeping me a slave to fear and what-if scenarios and could you even imagine?
And so all of these things had been simmering in my mind for years and years and years- Whatever childhood issues that made me wired for anxiety in the first place, sending my love to war and for three years straight never knowing if that would be our final conversation, raising babies and tending to lives that are so precious, so fragile- when I get this cancer news and it just breaks me.  There's no hiding the exhaustion and the panic and the fear when Lane walks in on me sobbing on the kitchen floor: Game's up.
This is what trauma does: It forces you to deal with it one way or another, eventually.  Dismissing it does nothing- it simply delays the inevitable reckoning of what is true underneath the surface of our hearts.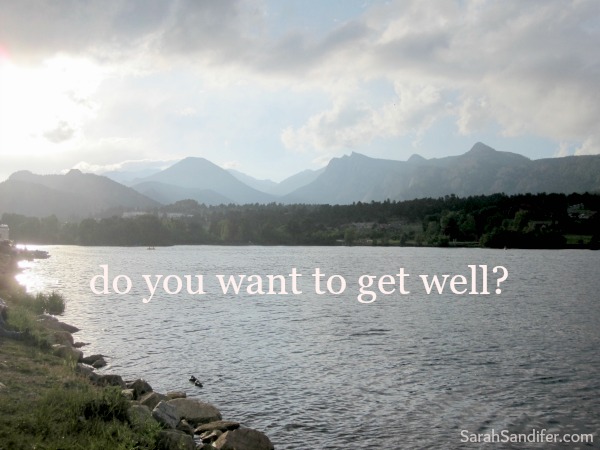 This, I have found, is critical: Saying our truth.  I wonder how many fewer women would be dealing with anxiety if we didn't feel like we had to hide or simplify our mess.  We don't need to cover up our hard with laughter or a joke or a light-hearted quip.  We don't need to only share our hard once we're through it, once we have the moral of the story to share with someone else.  We don't need to fear what others will think, if they'll become uncomfortable, if they'll treat us differently.
We simply need to tell what's true.
I missed out on a lot of moments with my people because I was unable to speak my truth.  Now I can and now I want you to.  Don't miss out on the healing, it's right there in front of you.
Do you want to get well?
I have found new rhythms, ways of living that are less stressful and more restful.  I tell my honest truth to Lane, even when it's embarrassing, especially when I'd rather hide.  I have learned how to become a fierce advocate for myself: I say the hard No's to keep boundaries in my schedule that I now know I need.  Surprisingly, these hard No's become easier and easier the more you say them: No, I can't be on PTA; No, I can't bring a meal that week; No, I'll just stay home, thanks.  I have balanced my hormones and do yoga and work out and eat well and make sure I take care of myself and take a long walk around the block, breathing in deep the fresh air.
And as I walk forward in our days with still a lot of unknown because that's how the future is, I find it's not so scary anymore, not really, not when we don't let the fear win.  I'm kind to myself, I'm honest about the dark places, I admit to my people when I'm not okay and we find a way out together.
And life on this side of the dark is lighter and freer and bigger and wilder than I ever dreamed or imagined.
Come join me.