I was already awake, but barely, when Brennan walked into my room at 1:00 in the morning last night.  See, I had had a bad dream and was just beginning to talk myself down- it was after all just a dream, a silly dream, of course I didn't lose my wedding rings.  As dreams tend to go I don't know why it woke me up, all I know is that it did, but as I lay there in my half-awake state, there appeared a tiny human right there in front of my eyes and boom! Mama's alert and awake and ready to go.
She tells me that she's scared, that she had a bad dream.
I hold her close, I put together words that pray over both of us and tuck her into her covers, right up under her chin just as she likes.
I had a dream and she had a dream and we both woke up, maybe at the very same time.
Even when they're out of our womb, mothers and babies are always connected.
We passed by a friend on a walk the other day and when she asked how I am doing, I replied with "We're good," and I didn't even think twice about it until later.  Generally, the four of us are actually just one: I am how they are and they are how I am.  Baby teething? I'm exhausted.  Three-year-old meltdown? Mama's done.
Oh, I know, I know: This too shall pass and one day I'll miss this and it goes so quickly and they're only little once.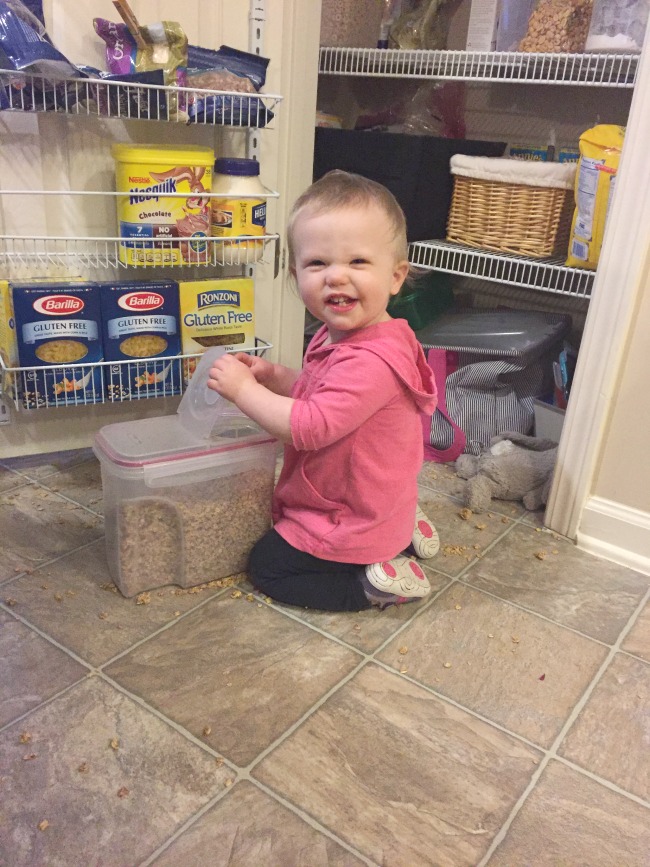 I know that one day I'll be able to sleep without the static of a monitor beside my bed and I'll be able to sleep in past 6:00am and blessedly, one day I might even get a full night's sleep.
I know that one day there will be less laundry and I won't always be so tired and I'll be able to get out of the car without having to go to both sides of the minivan to undo the baby and also the preschooler.
I know there won't always be handprints on the bathroom mirror to wipe off and there won't be size 5 shoes in a pile by my front door and my driveway won't always have sidewalk chalk creations all over it.
I know one day there won't be a pile of dishes in my sink and a pile of five-year-old artwork all over my desk and a pile of couch cushions all over the floor because they just had to make a fort.
I know that one day I won't be so tired.
These are the days they say go quickly.  I see how they do because how is she already five? But then also they don't because how is it only 10:30am?
These are the days that they say we will miss- the days of the rowdy mornings and the cold coffee and the big feelings from the toddler on the kitchen floor.  The days of picky eaters and sticky fingers and losing your cool at bedtime because why can't they just be precious for 2 minutes while you pray.  It's sweeping the kitchen floor seven times a day and starting the dryer again with the load from two days ago.  It's packing lunches and getting the sippy cup and waking up at one in the morning to hold her because her heart is scared.
And herein is the complexity of motherhood, I am finding: Being a mom is achingly hard because motherhood is always putting their needs above your own but then we also wouldn't trade it for the world because did you see their eyes light up when they saw the airplane in the sky?  It is boring and magical, exhausting and extraordinary, monotonous and wild.
We neither have to always love it or hate it, this is simply the way of mothering: Hard.
It is magical and awe-inspiring and full in the best of ways and it is relentless and mundane and sacrificial completely.
It is worthwhile and it is hard.
These are not mutually exclusive terms.
Mothering is both.
I am finally comfortable with admitting this and not letting it define me as either the best mom in the world or the worst mom in the world depending on which way the pendulum swings; it simply helps to admit the intricacies of being a mother.
Of course this is hard.  Serving others and loving selfish toddlers and pouring twelve bowls of cereal and showing them creativity and doing it all again tomorrow was never supposed to be easy because then we could do it of our own strength, ain't no thing.
The baby is in the stage of labeling everything: She points to a chair: "That's a chair," I say.  Up to the ceiling: "Bright Light." She points to her nose: "Nose."  To her tummy: "Belly button," and she giggles.
Here is the divine design of motherhood: the more we point out the world to them, we ourselves are the ones whose eyes see for the very first time.  In the midst of the mundane magic, the glorious and the achingly hard, being tired and being in love, we ourselves are the ones that finally fully wake up and open our eyes to what love actually is.
Love. This is love. Can't you finally see that this is what love looks like, Mama?
It can be hard and it can be good and it can be achingly exhausting and exceedingly magical but this- what you're doing, and this- what you're feeling, and this- what you're showing them again and again and again, even when it's hard, is love.
And you're knocking it out of the park.
xo