He walks in from work and I'm at the kitchen counter, chopping onions and potatoes and handing out carrots to hungry babies who just cannot even wait a single minute longer for dinner to be ready, they are the hungriest they have ever been, ever.  He walks up behind me and wraps his arms around me, pausing the motion and the busy around us, and bends down and kisses my scar.  This line sits at the base of my neck, right above the top of any shirt, red and uneven and reminding us of how loosely we control our lives.
Reminding us to hold each other tight.
Sometimes we do and sometimes we don't.
We got bad news the other day, something we weren't expecting, and something in me broke.  I stayed broken for a bit, too long really, because before I knew it I couldn't find my way out.
I'm sitting on the floor a few days later because I just don't even have the energy to stand anymore.  I'm feeling like a fraud, feeling like this news is too big, feeling like it would be easier to retreat forever and build walls higher forever because even if I was alone I would at least be protected because feeling things is hard.
Hoping is hard.
Love is hard.
Too hard.
And he gets down on the floor with me, right up next to my hip.  I scoot an inch away so we're not touching.  I see him smile which just irritates me even more.  He places his hand on my neck tenderly, so tenderly, right on that line the doctor drew with a knife.
I let him leave it there but I let him know I'm not happy about it.
He tells me he is willing to sit with me but he wasn't going to let me stay there.  He reminds me of Psalm 77.  How the first half of the Psalm is anger and hurt and doubt and question after brutal question of God.  And then, about halfway through, it shifts.  The writer begins to remember what God has done.  The writer begins to turn his eyes away from the problems, away from his hurt, and onto God and everything turns.
He tells me I can be as angry as I want to be but there needs to be a point where it has to turn.  He says I have got to make the choice to let it turn.
And now a few days after that, I think of this man sitting next to me, strong and tough and brave and a warrior, willing to get down on the floor with his wife, to sit next to her, refusing to let her stay in the muck because he knows it doesn't have to be this way and he wants her to know that too.
I think of this man willing to turn his wife's face saying "Just look over here, baby.  You don't have to see it that way.  It doesn't have to be so shadowed.  See what I see.  There's a whole other way to look at this."
I think of him, and I actually think of you.  
I think of the wife ten years behind us, not yet to our level of intimacy, feeling so alone, so misunderstood.
I think of the wife five years ahead of us, in the trenches of career stress and teenage stress and marital stress, wondering if it's finally time to throw in the towel, hope she can find happiness somewhere else, with someone else.
I think of the wife whose husband, when given the choice to enter into her pain or to avoid the mess, will walk away every single time.
And I need you to know something.  Two things, really.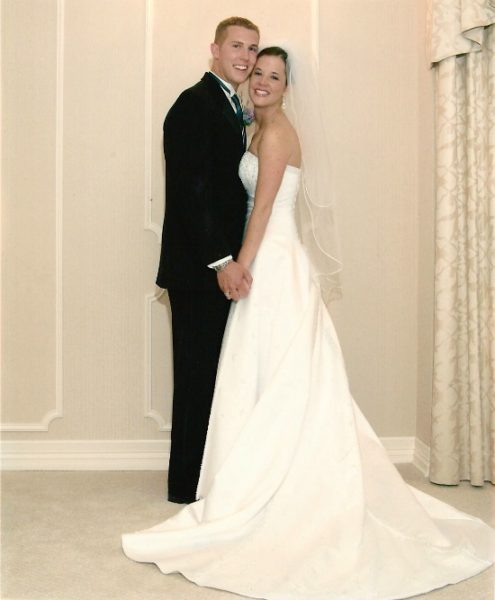 One: This place we're at, this place of brutal honesty, slugging it out, intimacy and tears and laughter and in-it-togetherness, has been won in the fire.  It doesn't come easily or naturally or because he and I are just wired a certain way.  This means anyone can get it who is willing to do the work. 
And two: It hasn't always been him to get down on the floor with me.  Sometimes I need to be the one to adjust his vision too.  Sometimes I see the broken thing that he doesn't and we have to trust each other in this work.  We promise the other that if we can shift course just a little bit, our aim will hit something much more beautiful.
See, a lot of the time it feels like our love has broken, like our marriage has broken.  The spaces where love used to have solitary claim become filled up with work and bills and kids and noise and deadlines and life's hard.  We see the markings of a broken heart everywhere and think that love has broken too, that love has failed us too.
But really, it's life that has broken.  Our marriage simply suffers the wounds of our broken hearts.
Friend, listen to me when I say this to you: It doesn't have to be this way.
The broken parts, the tired parts, the exhausted parts from the same battle again and again and again, it doesn't have to be this way.  You can reclaim the most broken parts, the most busted up hearts, by loving first.  Someone has to make the choice to get down on the floor.  Someone has to shift the course, say the first word, take the first step toward the other.
Why can't it be you?
And little by little, you reclaim what's been broken.  Throw out the scorecard that keeps record of wrongs.  Remember you are for him and he is for you.  Talk endlessly, about everything and nothing.  Believe the best about each other.  Say what's true and what's real and what hurts and fight but fight well and fair.  Spend time together and laugh and eat ice cream straight out of the carton.  Get down on the floor with the other when they are too broken to stand.
And we draw a line in the sand, declaring we chart a new path beginning now.  We reclaim the space in our marriage once again, talk once again, are in it together once again.
And a line was drawn on my neck with a knife.
He comes in from work and kisses my scar, and I lean into him and the girls giggle.
By our wounds we are healed.
xo