After the ceremony, Brennan is driving with Lane in the back of his truck, she's wearing her special pink floral dress because it twirls and he's wearing his dress uniform because that's what soldiers do with ceremonies this important. His boots are polished while her shoes sparkle, and she's holding the program in her hand while seeming to form the question she's been working on for awhile.
"Daddy?" 
"Yeah, B?"
"Why did that little girl accept an award on behalf of her Daddy?"
"Mommy said you were coloring at your chair while the ceremony was going on- you noticed that?"
"Yeah. I was paying attention to all of it. I noticed her because she's about my age. I saw her go to the front and some of the soldiers surrounded her and some others walked in a line up to her and gave her something. What did they give her and what does 'on behalf' mean?"
"Well, baby, her Daddy was one of the very bravest soldiers in the military. He died while he was trying to help some other people during a war."
Brennan is silent in the backseat while she fidgets with her dress, so Lane goes on:
"Kiddo, I work with some of the very bravest soldiers in the whole entire world. These guys are the bravest of the brave and the best of the best and they're doing everything they can to make this world a better place for all of us. But because her Daddy lost his life while on a deployment- doing something very brave- he got a very special award and that little girl was given it in his place since he couldn't be there."
—
Lane is recounting this whole story to me while we're sitting at some tables at lunch right after the ceremony, eating club sandwiches and potato chips, the three girls right by our sides, while we talk about the prayer he prayed and the awards the guys got and what they did on a deployment to deserve the bronze star and the Purple Heart and the valorous and courageous and brave things they did. 
He kind of gets this smile on his face before he says this next thing and I ask him what he's thinking.
"Well, it's just kind of crazy. I know these dudes. They've been in our house and I play on their soccer team and we eat meals together and I know them, you know? You'd just never realize that they're capable of the things they are capable of."
We laugh, but I know what he means.
These courageous ones, these good ones, these soldiers are elite and brave and the best. But they're also just normal dudes who are witty and pretty sarcastic and quote Will Ferrell movies and are someone's daddy, someone's son, someone's husband.
And because they are someone's husband, this is where my attention was focused during that ceremony.
See, I do this same thing when we go to a wedding. Everyone's eyes are on the bride, stunning as she is in her white, with her flowers, in her gown. 
Know where my eyes are while she walks down the aisle?
The groom. 
I watch him as he's watching her. I see his eyes well up, I see how proud he is, I imagine what this kind of love could build over the long haul. 
And there we are on Friday morning, distinguished guests and city residents and military wives watching as valorous awards get pinned to chests and soldiers salute and say thank you; I'm imagining the stories we might never know, about what those medals actually cost and I'm probably not the only one. Wives of the unit sit in folding chairs and their kids dig in the grass with their fingers and eat goldfish that their momma's brought for them in plastic baggies and they color with markers on books of paper.
During all of this? While the whole crowd's attention is focused on the soldiers?
My eyes are on the wives. 
I look to them, to my right and to my left.
I watch them as they watch their husband and see their eyes well up, I see how proud she is, I see her point out the new medal to her kiddos, checked out of school to watch their daddy stand at the front. I watch them watching their husbands and imagine what this kind of love can build over the long haul.
I begin to think of how this love looks like a circle to me: They deploy on behalf of us and we raise these kids and keep these homes on behalf of them- when we need to, when they have to be gone. We make meals on behalf of each other when someone's kid is sick and they race to the wounded under danger close on behalf of each other, too.  
We all take care of each other, is what I'm saying.
Soldiers say they do what they do because of the guy to their right and to their left, simple as that. 
Brotherhood, is what they call it.
As I'm looking at these wives, to my right and to my left, I realize that we get the same thing:
Sisterhood. 
We military wives, too, do whatever it takes to keep our sister going- we cry on a living room floor, meet up at a park, text at 11:00pm, drag someone to church, bring a bottle of wine, take care of their kids, go with them to a doctor's appointment, go on a walk around the neighborhood, go out to dinner. 
Love is strong like a circle, holding us all together.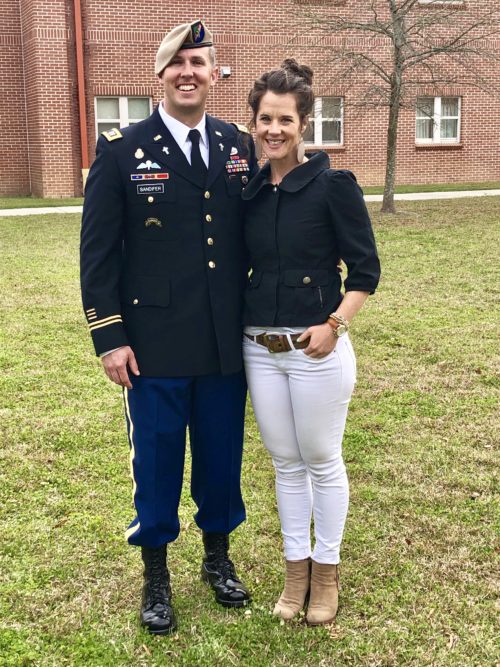 —
I remember how the soldiers surrounded that little girl as she accepted an award on behalf of her daddy- to her right and to her left, some in front of her- and when I think about it, it looks like they're forming a circle around her, too.
It really is a circle, I see it now.
He gave his life on behalf of another. She is presented an award on behalf of him.
She need not worry whether she is loved, whether she is protected- those guys forming a circle around her will encircle her, shield her, cover her, just as her daddy did for us. 
—
Here's what I'm thinking about as I process all of this.
What if we lived on behalf of each other a little more, cared for each other more than ourselves a little more, held up the person to the right and to the left of us a little more, expecting them to do the same when we need it, too?
We're in it together. It's all a circle, you see. None of us can be strong alone- we were always meant to be stronger together. 
We hold each other up and serve on others' behalf and take care of each other and take care of each other and take care of each other.
And because we get to experience this brotherhood, this sisterhood, I think we all get to see and touch and feel what love looks like. 
Sometimes I wonder if our country looks at military wives and only sees how much hard we carry, how much broken we face, how much separation we endure. But I assure you, we are the lucky ones, as we live side-by-side with these soldiers: Fierce as they come, giving themselves on behalf of another so that we know love not just by stories but because we have seen it and lived it and been able to reach out and grab it.
Want to know what love looks like? It looks like this: Giving your life on behalf of another in all of the ways big and small, and the world gets put back together, little by little by little again.
What we do now?
Keep drawing circles around each other and for each other and on behalf of each other.
Wider and wider and wider, still. 
xo,
Sarah
---
Struggling with the demands and depletion of this military life? Maybe this will help: 5 Ways I Stay Sane in this Military Life. Click here and I will quietly send it to your inbox.
For more of the daily stuff, my favorite place to hang out is Instagram. Come join me over there!