My doorbell rang the other day, 8:30 am.
This is it, I immediately think, This is what I'm wearing when I find out he's gone. 
It ended up being a neighborhood kid returning something her mama had borrowed the night before.
///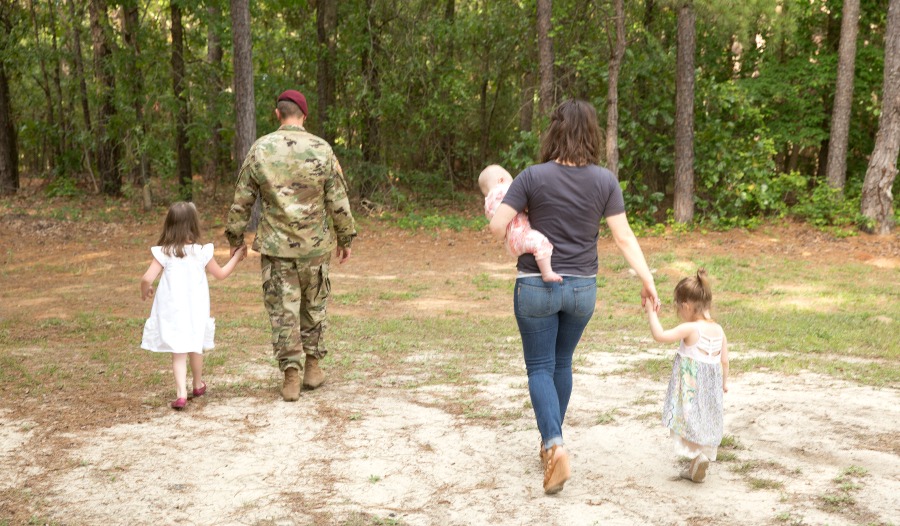 He's been traveling around the country- not ours, the one with desert sand across an ocean- a lot. I watch the clock, trying to imagine his movements, whispering up prayers and wishes and words that feel so heavy, so tender. I need to place them in front of God anyway, they weigh me down too much, so that is exactly what I do, right there at his feet for him to carry instead.
I know about things that go on over there- about patrols and convoys coming under enemy fire and suicide bombers and chemical warfare- even right now, even still.
I ask Lane one day "You don't need to call every day, you don't even need to text me something of substance every day. But can you just send me a thumbs up sign, something when you get to where you're going? Just something. I just need to know you made it. Honestly babe? I just need to know you're alive."
And my phone dings most days right around midnight his local time and a surge of electricity pulses through my blood. He made it. I can breathe easy at least until we begin it all again tomorrow.
///
We lost a soldier a few weeks ago and a collective sob reverberated through our installation. Too young, too strong, too loved.
We hold our lives so loosely, it turns out. We have no idea the number of our days, it turns out. For the military, for our brave, brave men and women willing to walk the road of sacrifice, it's a question they're willing to find the answer to if it means serving our country and giving yourself for the sake of another.
///
I'm talking on the phone with Lane one day and he's telling me about a situation the week prior- suicide bombers trying to breach the walls of his compound; other men who wanted to kill our men. He's telling me about the constancy of the bombs that he hears every day and then I myself hear one go off in the background.
You know what he said in the next breath?
"It's a privilege to be here, baby. It's an honor to be serving on the front lines with these soldiers next to me. I love what I'm doing."    
Privilege. Honor. Service.
Love.
2017 is a year of war for us. He's gone for nearly the whole of this calendar that hangs on my wall. Before he left, the word that both he and I felt so surely, so strongly that would cover this year for us is peace.
Peace, I leave with you; peace, I give you; He shall be called the Prince of Peace.
And we're discovering that what you seek, is what you'll find.
Turns out that you can find peace even in the middle of a war zone. 
///
And so this is what we seek and this is what we ask for and this, God, is what we pray you rain down: Peace.
Peace over our world, peace over our nation, peace over our wounded and weary souls.
Peace over our military families who say the hard goodbye, never knowing if it is their last.
Peace over the families who said goodbye and it was their last.
We hold our lives loosely before you in trust as we learn that it is you that directs our steps, whether in a war zone or to the kitchen table.
When we begin to fear, remind us of the Love that is stronger.
When we begin to worry, capture our thoughts and remind us of your loving presence that you've promised is always with us.
When the unknowns paralyze us, show us the next small step to take in love and how that is the only thing with which we need to concern ourselves; tomorrow will take care of itself.
When we want to turn inward and protect ourselves and our hearts, remind us that no greater love is found than in the laying down of your life for another.
And so, Lord, for those who have done that very thing, we thank you for them. For those who love them, we pray for your peace that passes understanding to surround them on this Memorial Day, for your comfort to reign, for love to break through the hard places.
We pause today to remember.
And so remind us today of the lives that serve, and the lives that continue to go to the hard places because that is where freedom can break through.
It's a privilege and an honor to live a life of service. Help us to do it in love.
///
xo
---
---
For my military sisters, here is a free 30-day devotional for the military wife that I wrote with all of my heart and soul just for you. I love you so. Please click here to grab it.