I was a really good teacher, once.
I taught social studies- high school history, juniors mostly.  I was even nominated Best New Teacher of the Year for my school district, I really truly was.  It felt good, honestly, to be recognized for doing something that you love and doing it well.
I probably still have the certificate in my boxes labeled "Teacher stuff" in our garage.  A piece of paper that has probably yellowed a little by now, maybe has some torn edges.  It's just a piece of paper really, what does it say about me?
Nothing and everything, I suppose.
Before motherhood, before staying home with them and figuring out who we really are- me as much as them- I was a teacher.
And what am I now?
A mom?
But is that enough?  That new identity- working inside of the home, raising babies, tending to hearts and homes and husbands and homemade guacamole on Tuesday nights?  Is that enough to be great?
Is that actually enough to give my life meaning?
Once we get back out there- is that when we can have it all and maybe be somebody?  Isn't out there where the glory is, the recognition, the sexy professions are?  Because when I just wiped the baby's nose with my own shirt sleeve that sure doesn't feel sexy.
I began to take note of all of the mundane tasks in any given day and noticed how mundane they all are- Cheerios and fingernails and matching socks and eating dinner standing up.  Kissing owies, managing schedules, getting kids to bed.  I remembered who I was before the babies and began to think a lot about what I might be after.  This "after" that hangs right in front of us like a carrot- this is just a season, after all.  We'll be home for them now but then in the not too distant future we'll be able to get back out there and pursue our passion once again.
And it dawns on me one day, that this is how I view motherhood: I'm just putting myself on hold for a little bit, taking a break until I can get back to doing what really makes me come alive.  I was going places, after all.  I was contributing and making a difference and making money and making more than beds.
And so does this count?  Does this- what we're doing right now– count in making a difference? Does this count in doing something worthy, making the world better? Does this count, too?
I began to notice the secret whispers in my heart: Surely this day-to-day mundane and everyday ordinary won't measure up to whatever is out there, the next phase, next season, next thing we're chasing.
If I remember my "before" and I am chasing my "next," what about this time in between the two?  There simply has to be more to mothering than merely getting through it.     
And so I have been on a journey trying to figure this out: This movement from here to there, from discontent to joy, from discouragement to purpose within motherhood.
I began to pay attention to this little stirring in my soul- not to forget who I used to be and not to silence the longings for what I still could be- but to simply notice what is in front of me. 
I began to see this way of living as an invitation.  No longer am I a martyr, sacrificing my energy and my desires and my what-could-have-beens in the name of mothering these babies.  No longer am I wearing these glasses that tint how I view each and every interaction with my babies.
The invitation invites me to take off the glasses and see this season for what it is and what it could be: A gift.
Listening to and leaning into this invitation has been good.
Sure, sure, this doesn't always feel like a gift- not when I could be achieving or making a name for myself instead and certainly not when they're screaming or demanding or I'm sweeping the floor for the third time that day.  But I have begun to realize that I can't always trust my feelings- they're not the best barometer for what is true.
Sure, sure, I am more than a mother.  There are so many facets of me, passions and hobbies and giftings that don't have to be sacrificed in order to be a mother.  Absolutely, my children need to see me come alive.  I just want to make sure that they don't only associate me coming alive with when I am not with them. 
The world tends to tell us that meaning is reserved for the hustlers.  For the ones who keep up and try harder and look beautiful doing it.  Purpose stems from busy schedules, overflowing salaries, large houses, perfection.
The way of love teaches us something completely different.  Our purpose was decided long before we were born, our worth was determined before we ever earned our first paycheck.  Both are announced by the simple fact that we are loved always, just as we are, no matter what, forever.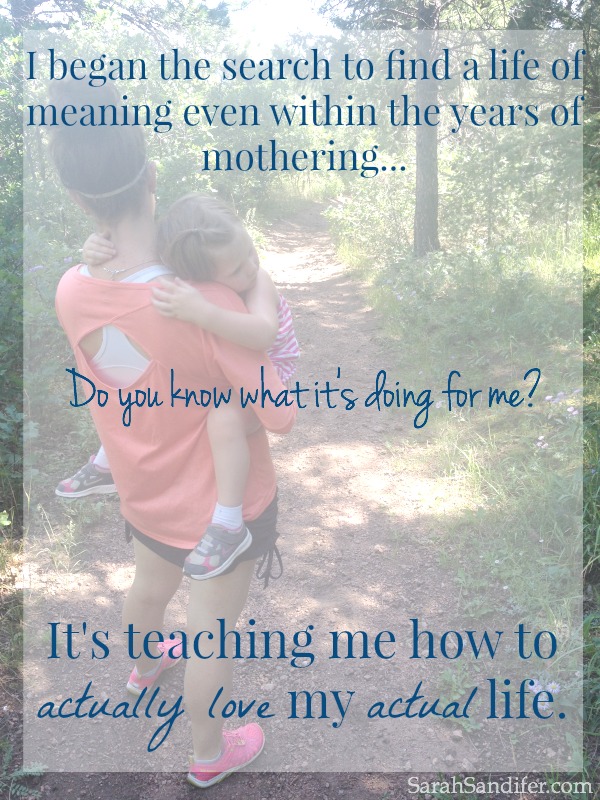 This changes everything.  There is absolutely nothing we can do to lose that love, and conversely there is nothing we can do to earn more of it, prove ourselves, gain more worth from it.  This should be jaw-dropping and liberating.  It might feel a little vulnerable and scary.
Do you know what it's doing for me?  It is teaching me how to actually love my actual life.
I now pay attention to the moments in our days rather than hurtling through them trying to get to the next thing.  It gives me perspective to get through the hard moments, joy to appreciate the little moments, mindfulness to remain present for all of them.
A meaningful life can be found anywhere, I am finding.  At the top of a mountain, in the middle of a classroom, working a sales meeting, enduring a toddler-sized tantrum.  Both the most mundane and the most extraordinary tasks can be infused with meaning if we only pay attention.  The most ordinary moments can be saturated in significance when we use them to remind others of how much they are loved: Always, just as they are, no matter what, forever.
Surprise of surprises, I see it right there: Sacrificial love, that's all that's required to be great.
So we keep taking it one day at a time, we keep loving them and loving them and loving them and showing them what real love is like.
And slowly begin to believe: Whatever it looks like, however many people recognize us or don't,
Our meaningful life was right underneath our feet all along.
xo
---
Stay encouraged! Join the community and walk with us as we discover what it means to live out a faithful life!