Since the very beginning, I saw that she was more mine than the other two were.  Oh, they love me, of course; they adore me absolutely.  I am their sun as their days and their hearts revolve around mine.  But the other two, they are their Daddy's.  If I am their sun, he is their shooting star, magical and bright and special, the flash of light in their nighttime sky.  But this one, the baby, needs me, adores me, can't be without me.  This one, the baby, does not give me space.
She moves around the house, murmuring my name in cadence to her steps, mama mama mama.  She says mama daily, and sometimes even nightly, in her sleep.
I move around the house, to the laundry room, to the kitchen, to the bedrooms and the front porch and out to the car and back to the laundry room of course, and she follows me.  She keeps up with me, crawling at my feet mama mama mama.  I stop moving and she pats my feet, looks up at my eyes with that cheesy grin, pulls on my pant leg.  Finally, I suppose, I'll pick her up, I have so much to do, though, child.
She squeals.  Mama!  She pats my face with both hands and looks into my eyes as if she just fell in love a little bit more.
She searches for me and she needs me and she wants me and she repeats my name and gives me no space.
Even when there are so many other things I could be doing right then, that I'd rather be doing right then even, honestly, I pick her up.
Even as I stand at the stove, stirring and busy child- don't you see?, she finds her way to my feet and plants herself right there, thank you very much, pushing my legs away from the counter until there is room for her too and I end up picking her up, sitting down right there on the kitchen floor.  I scoop her into my lap and she lays her head on my shoulder, leaving it for just an extra minute because she's been reminded that I am hers.
She follows me and she chants my name and she searches for me, just needing me to notice her, needing me to pause for just a moment really, and notice her.
I have been waiting on something for a long time.  Working toward something for a long time, really.  And we're waiting on something else too while I wait for that other thing.  I bet you know what it's like to wait.  Isn't life a series of waiting?  The adoption, the job offer, the book deal, the promotion, the phone call, the doctor's appointment.  We wait.  We wait for the kids to go to school, for them to reach the next stage, for the baby to learn to play independently, for the love.
When we're in seasons of waiting, it is so easy to make life about that thing, about that next step, about what I could be doing out there, then.  So often, while we wait, our life becomes about that thing.
Because see, it's possible to become so focused on movements that are taking place out there, then, that we fail to see the movements that are happening right now, here.
That is what the baby's shenanigans have become to me, really, if I'm honest.  A distraction.  An interruption in my day, in my very important work of moving and cleaning and writing and errand-running and picking up from kindergarten and making sure I do it all so that we can reach that next step.
While it is so easy- and natural and normal and good sometimes, even- to focus on that thing out there, to work toward it, to wait for it, it is also so easy to view our right-now life as one giant waiting room as we hang around, waiting for real life to begin.
It is so easy to move around fast- we are so busy, you see- and miss the baby at our feet, just asking to be picked up.
And so when I pause the movements of my day, stop rushing and stressing and watching the clock as my usable minutes tick down and stop worrying about how this moment will actually contribute to my end goal and I actually bend down and pause, what I am doing is so much more than just picking up a baby.  What I am learning is that each pause pushes back against the lie that real life is out there, then; that my work is other places; that the physical, tangible results matter more than the soul at my feet.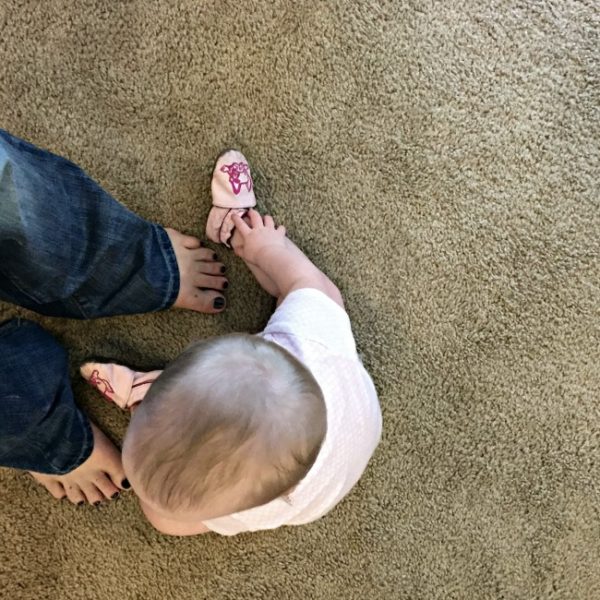 What my baby is learning is that she is worth the pause.  What she is learning is that I am willing to bend down and scoop her up and let her blow raspberries in my face because what she is learning is that I will love her with everything I've got- all of my time and all of my heart and all of my energy and all of my minutes of my day.
The five-year-old walks up to me, asking if it's time to cuddle.  I tell her that I am trying to put words together, to process this thing that is going on in my soul as I balance the out there work with this inner life.  She says "How about cat?  Could you put that word together?"
While I work in the home and raise up these babies and wait on that thing to happen, I begin to see that sometimes it feels complicated, sometimes I struggle to reconcile the mundane nature of my right-now life with one we're working for and waiting on.  But then she walks up to me and says "How about cat? That's a good word!"  and then she crawls up to me murmuring mama mama mama and I see this new thing going on in my heart, this sacredness of zero space, the sacred work of responding to her calling out to me, the sacredness of the pause, and see that it's actually so simple- real life is right now.
And with each pause, I begin to believe that she matters more than the rest of it, but also, also that I do too.  That my worth and my value and my purpose are never tied to what might happen out there, then, that my worth and my purpose and my value are never tied to what I can offer, to what I can accomplish, to what I can work to achieve.
And with each time I bend down to gather her up in my arms and let her pat my face in sheer adoration, Love bends down to my world too, interrupting my world too, and I see that reaching that next thing is never what it was about in the first place.
It's about noticing that Love was with me all along, patting my feet, just asking me to notice it.
//xoxoxo//