I was riding in the back seat of a friend's station wagon in the fourth grade the first time I thought that my body wasn't good enough. We were on our way home from soccer practice, side by side eating oranges and drinking capri suns and I looked down and I noticed that my thighs were wider than hers.
Is this a good thing or a bad thing?
Neither, as it turns out.
But in my 10-year-old mind, I assigned it as bad, and on we went from there.
I was in high school and confessed to a friend that I had a crush on a boy- a soccer boy, skinny and quick on the field, I remember- and her response was: "Oh? Well… don't you think he would maybe go better with… a smaller girl?"
This too, I assigned as bad, and on we went from there.
I grew up and gathered more messages here and there, holding on to them, tucking them away. Big or little? In or out? Do I belong? Does my body belong? Do you think that me and my body belong?
How do you release these messages and move on without them? They're velcro and sticky and cling to your heart. How do you let them wash over you like water, not mattering an ounce to you and your identity and whether or not you can see that you're beautiful?
This is hard to do, as it turns out.
So I eat a cookie and feel guilty, I look in the mirror and analyze my stomach, I feel sad or stressed or worried or mad and spend an extra hour at the gym to compensate- both for the cookie and for the feelings. The messages of wider thighs, the too-big-for-the-soccer-boy, the too much and therefore also, not enough, messages cling to me and stare back at me from the mirror and stick to my heart.
But this is normal, isn't it? Does anyone ever feel good enough just as they are and beautiful just as they are and confident with what they've been given?
Can't be possible. Is it possible?
The questions linger and messages stick and I continue to wonder if this body, just as I am, is good enough.
Through it all, life has gone on and I met a boy and we have some babies- three girls, as it turns out.
Each time I grow one of my babies and my body shifts and stretches and expands and contracts, my husband, this boy of mine, looks at me and tells me "You're beautiful. Don't you see you're so beautiful?" Each time I dismiss him, still not believing him, not really- I still feel too big and too much and not enough.
But he says it the same. 
It's up to me to believe it. 
This is what did it, I think, that made me realize that there's another way. He speaks my beauty the same- from there, the rest is up to me.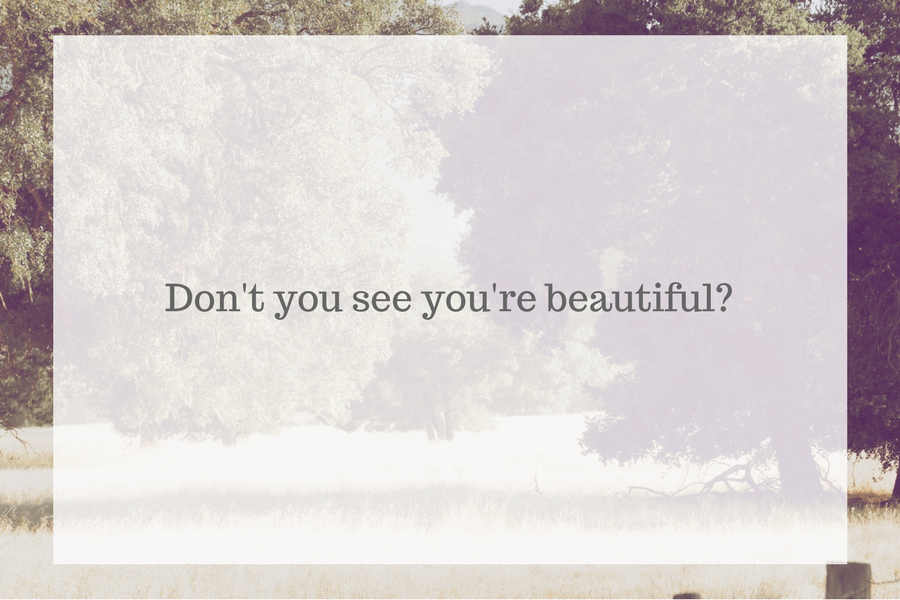 See- I've been told of the sacredness of our bodies, the intricacy with which we are formed, the delight and the design that went into creating us. I've heard of the complexity of our very nature- that we are just as much spiritual and emotional as well as physical beings. That we were made with care; every inch and detail formed in love.
Am I going to believe it?
What a work it is, I found, to match our life with our beliefs, the inside of the cup with the outside. Easy external fix, it would seem- the smaller my jeans size is, the flatter my stomach, the smaller the number on the scale, the more I can get my body to match hers- the more beautiful I would feel. But as is so often the case, matters of the heart are much more complicated than they would seem. I become convinced that as long as I'm unable to believe my beauty, there is no amount of outside fixes that will fix me.
So I decide to find peace with my body, believe that what I've been given is good enough, and find freedom in my beauty, just as I am.
It's been a challenge, really, on how much power I give to our cultural climate, to others' voices, to lies I hear and see and believe. It's been a check on how I fill my mind and what I keep my eyes fixed upon.
It's been hard work, truth be told.
I become aware of the inner monologue that cycles through my head- the criticism, the shaming, the insecurities- and replace those thoughts with kindness to myself.
I fill my life with examples of strong and sassy women who push me to run farther and be stronger. As my body becomes more friend and less enemy, I find the strength to do things I never thought I'd be able to do.
I train my mind to not be so obsessed with myself and lovingly redirect my thoughts to who God is and who I am because of it and everything gently places itself in perspective.
In short, I stopped caring about what the world says and became laser-focused on the love that keeps my heart firm always no matter what.
That's the beauty of it, I realized: I get to choose who I believe, what messages I hold onto, the voices that have power in my life.
I never crossed the finish line, I'm not sure there is one in this matter. It's more of a release of an old way, and being pulled forward into a new way constantly, daily.
We don't have to be unsure of our bodies, I'm learning. We don't have to believe words that were said, I'm learning. We can change the way things go for us. These bodies are gifts, I see now, and the more I really believe that, the more I taste freedom.
///
You're beautiful. You're beautiful. Don't you see you're beautiful?