I don't know when it happened, all I know is that it did.
Because weren't we just rocking in your chair, you nestled into my chest and I unsure and terrified and in love? I remember the day we got that chair- it was delivered by the store and your Daddy was at work but I was bound and determined to get it to your bedroom to complete the nursery. Imagine me: 36 weeks pregnant, pushing and pulling and twisting this rocking chair around the corners and through the hallway to get to your room.  It had to be just right, you see.  You were coming soon. You better believe I got the chair to your room that day.
And wasn't I just nursing you? Hours and hours and hours, belly to belly, your hands playing with my hair.
Wasn't it just yesterday that you learned to sing "The Grand Old Flag?" But you said it in your three-year-old way- Gwand Owd Fwag- and I am so glad I captured that moment on video, your tiny little voice has already disappeared.
I don't know when, but you grew up on me.
So much is ahead of us, my dear. We still have so many milestones to hit, so many big moments to capture: First lost tooth, first days of all of the school years 1st through 12th, first date, first car, first prom.
But there is already a lot behind us: The Little Years. My, how they went by quickly. My, how glad I am I got to spend them with you. Wild and exhausting, they were. But I want to remember them forever.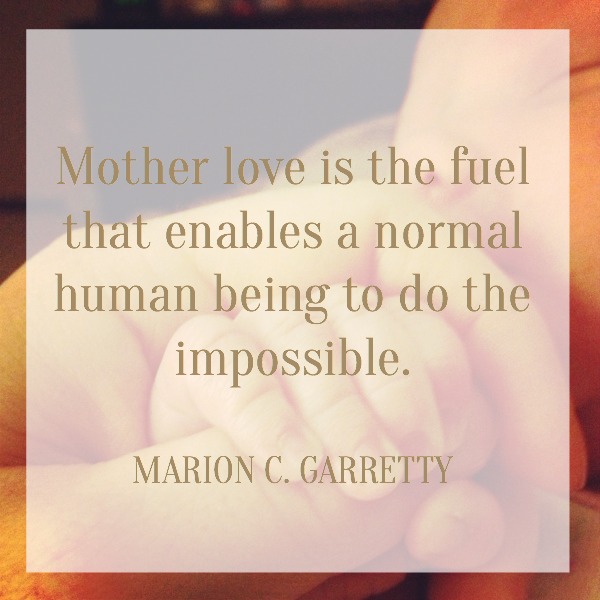 ---
It started with just a simple idea: I wanted to write a birthday letter (handwritten, this was important to me) to each of my girls, first birthday through their eighteenth, keep it in a binder and give the binder to them as a present on their 18th birthday.
I have done this for the girls: Brennan now has six letters in her binder, Ellie just earned her 4th letter, Mae has only 1 so far.
The letters are part love note– I want them to be able to look back on their childhood and know without a doubt how delighted in and cherished they were. They are part family history– I tell them the big family events that happened that year in their life so they can put that year into the bigger picture of our story (moves, job changes, this deployment). They are also part self-discovery– I point out the characteristics I see in them each year, how they have changed, what they love, what I see as their strengths and struggles as of right now.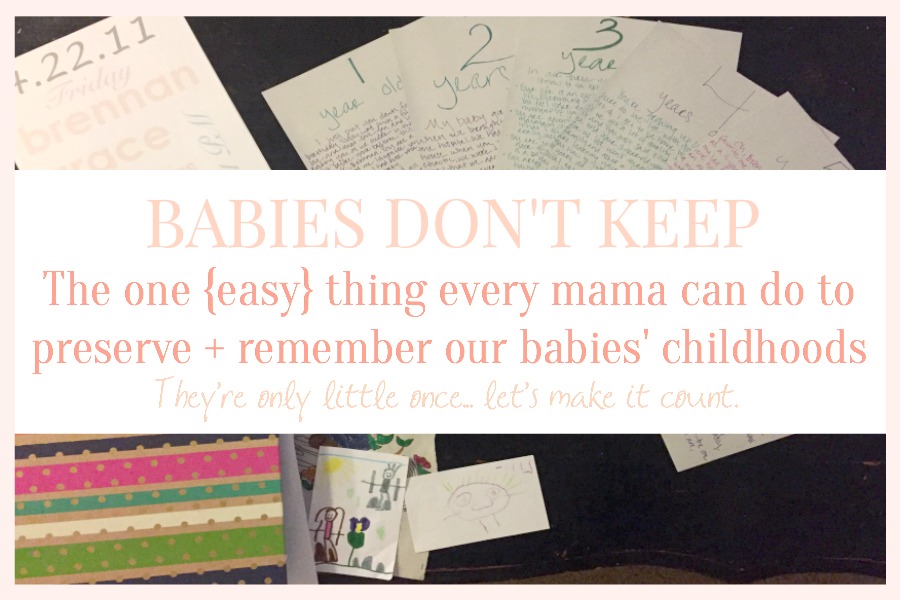 As for the handwritten part: I want my girls to know what my handwriting looked like. In this computer age, we are losing written documentation written by actual human hands and I want my girls to have that part of me. Anytime I happen upon an old recipe written by my grandma or a letter that she wrote to me, it feels like I have a piece of her still. I want them to have that of me.
---
This birthday binder idea has multiplied to be not just a place I store their letters, but where I store their childhood.
That scrap of paper I still have of the first time she drew a person? That classic circle body with arms and legs sticking out that shouts 3-year-old-art? Into the binder.
Letters that she receives in the mail that are significant for one reason or another? Into the binder.
Her preschool progress report, kindergarten artwork sent home, letters I find scrawled throughout the house in her 5-year-old handwriting that are special to me… into the binder.
A document I created on my computer goes in the front of the binder: All of her birth stats: Date, day of the week she was born, time, height, weight, full name.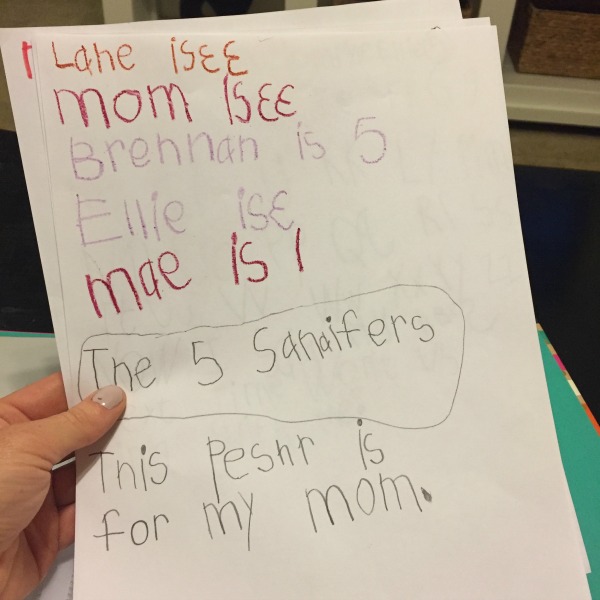 ---
I went to Target one day, picked out 3 3-ring binders (one for each of my girls) and some plastic paper protectors to go with it- the kind that clip into a 3-ring binder and you can slide paper into. I need this to be easy for it to be something I'll actually follow through on.  As they turn a year older and I write another letter or as I find something I want to preserve, into the binder it goes.
It naturally falls into a chronological pattern, the birthday letters marking the changing of the years, everything significant from that year being filed in between.
I think this is what it comes down to: I want to be able to hand her something physical that proves to her beyond a shadow of a doubt that she was fiercely loved. That her childhood meant something. That she means something.  That our years together were worth remembering, they were significant; that it was both hard and joyous and I wouldn't trade a single second of it.  I know one day I'll forget what it was like to have her as a 4-year-old, sticking post-it notes throughout the house.  I know I'll wish I kept that one letter from the best friend/nurse who attended her birth.  I know I'll want to remember her idiosyncrasies at 5 and at 6 and at 12.
I know I'll want to remember the details of her.
I know she'll one day want to know her details too.
An eighteen-year labor of love, this is.
But just imagine the look on their face when you present this binder to them and they realize what you had been working on all those years.
So, so very worth it.
---
Stay encouraged! Join the community as we discover together what it actually looks like to live out a faithful life.