{Is divorce everywhere for you?  Sometimes it feels like it is for me.  Why is that?  I feel like so often, we are presented with images of either the picture perfect magazine cover marriages or those that end in failure.  It's never as simple as that though.  Just look at us.}
//
Lane calls me the other day, asks about how we're doing- the girls and I.  Then he asks about how we're doing- he and I.  I know this is hard, he says, but is it too hard?  Are we going to stick it out, he asks?
We talk over the phone, an ocean apart.  I show the girls where he is on the globe and you have to spin the thing nearly halfway around until you land on his spot.  Our feet touch the two ends of the earth at the same exact time, about as far away from each other as two people can be, and he wonders if this is too hard, probably rightly so.
Just checking in, he says, I just want us to be on the same page.
"Oh this is hard," I assure him.  "It is so hard, this thing we're doing.  But you need to know this: Just because I admit that it's hard doesn't mean that I'm not all in."
//
I think that's something I would have appreciated knowing twelve years ago, engagement ring on my finger, months away from marrying this boy: That life is going to get hard because that's how life is and marriage will probably get hard because that's how marriage is, but it's okay to admit that because I'm also all in.   Come what may, I'm by his side both this day and all the rest just as he is mine.
I think that I thought we were immune from this work of love- because all love requires a cost, requires us to be all in, and all of that really is work- but I just didn't really think that applied to us.  Twenty-one years old, smitten and engaged and so ready to just marry this boy, we had dated so long, we knew each other so well, surely, I thought, we would be the exception to the rule.  We would always feel this way, we would always be fine.
And then life got real and then we began to fight about it and then we had babies and forgot how to be married first and marriage was so, so good and so, so hard.
So if I could, I would have taken that new bride and showed her pictures of marriage- the real ones, the hard ones, the beautiful ones.  I would hold her hand and point out the love and let her know it's all going to be okay.  I would say "See that?  And right there?  You guys love each other so much.  You're still just figuring out who you are, what you want to be about.  Life just threw you a heck of a curveball and you're still stabilizing.  Don't throw in the towel.  You're going to make it."
So here they are: Pictures of a real marriage that stayed.
//
4.5 years into marriage.  Winter, 2009.
We're driving on the highway in a major city we don't know, exit coming up, me at the wheel, Lane the navigator.
"You need to get over now."
"Babe. I'm trying.  There's a huge truck right there and I don't know if I'm going to make it."
"Get over.  You gotta take this exit.  This gets us on the interchange."
"Lane.  I can't.  There's not enough time."
"Seriously!  Take this exit!  WHAT THE **** DO YOU THINK YOU'RE DOING!"
He had just returned home from Afghanistan a few days prior.  His nerves were a little tight, you see.
But I was glad I had sunglasses on because I couldn't hide the tears otherwise and I gripped the steering wheel and we drove in silence.
//
10 years of marriage.  Summer, 2015.
Colorado mountains, our very favorite place in the whole world, sitting on a wooden swing on the back deck of a mountain cabin, watching the babies play in the field below while he and I sip an afternoon glass of wine.
We don't need to talk, not really, I just reach over and touch his arm because I can, and then run my fingers through his curly hair that he tends to keep short but I love it a little shaggy.  It's this comfort together that's my favorite part of marriage.  It's this way we can communicate through no words at all and he knows when I want to leave a party because I look at him just so and I know when he gets choked up but is trying not to because he does this sort of laugh to swallow down the emotion and he shoots me a look to simmer down when I start to get a little sassy with a terrible waitress.
We swing in the mountain breeze, not really talking at all, just reveling in our withness, marveling at these three babies that are now with us.  When did that happen and I wouldn't have it any other way and she got the very best parts of you, can't you see?
We swing and we sip wine and we watch our babies frolic in the mountain air and my life nearly contains more of him than not and I know that I want to remember this moment.
//
6 years of marriage.  Spring, 2011
Brennan is five-weeks-old and a bomb has effectively gone off in our home.  Lane works in the day and works in the night and is gone on the weekends and I'm hormonal and exhausted and nursing is hard and having a baby is hard and not sleeping is hard and this is what mothering is?
Slowly, slowly, slowly, we become roommates.  We're both exhausted and needy and forget how to love each other first or well or at all.  If we talk, we're arguing, so we end up just existing in silence.  I hand him the baby to cook dinner, he hands her back to me to feed her.
We live in the same house but couldn't be further apart.  I don't know how to take care of another tiny human and still manage other tasks like shower or clean or do laundry and just can't figure out how to get this baby to stop crying.  Lane doesn't know how to help me or help Brennan and he feels helpless so just retreats.  To me, he is just another person whose needs I have to tend to and I just can't muster up the energy to be both wife and mama, so mama always wins.
//
4 months of marriage.  Fall, 2005.
We load up his not-so-trusty Chevy Blazer with all of our possessions in the rear of that one SUV and drive away to Oklahoma, young and wild and free and sure of how things are going to go, me and him against the world.
We couldn't have known back then, we could not have even imagined, the babies we would have, the tears we would cry together, the knock-down-drag-out fights, the trips and the moves and the jobs and the donuts on Saturday mornings at the perfect little shop off of Jewell Avenue.  Can you even imagine those 22-year-olds seeing us now?  More wrinkles than we had then and more gray hairs than we had then and more stories and sleepless nights and always the adventures too.
//
Because eventually, we get to Spring, 2017. A few months shy of 12 years of marriage.
We have learned how to communicate well because of all of the times we didn't.  We have learned how to fight well because of all of the times we didn't.  We have learned how to choose joy because of all of the times we had to.  We have learned how to appreciate this wild and wonderful and everyday ordinary raising babies together and eating ice cream on the back porch kind of love because we learned that this is where the best parts of life are lived: Together.
Here's what I would tell that new bride, if I could.  I would tell her You're going to make it.  
I would tell her it's going to get hard and it's going to get amazing but then it might get hard again and that doesn't mean you guys have to end it.  This whole marriage thing?  This whole love thing?  It's brutal.  It requires you to be loving and selfless and giving and generous and sacrificial and patient and humble and so very honest and true and do it all again tomorrow and it is just so hard.  Sometimes we only see the magazine love stories or the happily ever after movie endings, but reality is that love isn't so neat and tidy.  There's good seasons and hard seasons and seasons where you have to fight it out and seasons where you just make sense.
The thing is, "for better and for worse" means that both will come, and not only once.  You don't get to ride out the "better" until you're old and grey and that's when the "worse" hits, no ma'am.  It's a topsy-turvy circle of love, you spin through the seasons of better and then you spin through seasons of worse and sometimes you hit them both at the same time, such holy disorientation.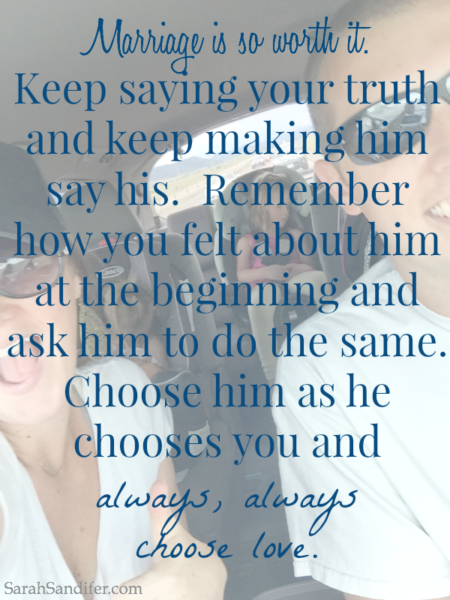 And you know what, new bride?  It's so worth it.  So keep at it.  Keep saying your truth and keep making him say his.  Keep loving him first and only.  Remember how you felt about each other at the beginning and ask him to do the same.
Choose him as he chooses you and choose love even when it's hard and one day you'll be on the other end of your hard road remembering all that you were and all that you still are and dreaming about what will be.
Because you're going to make it.
You chose him then, and you can choose him again.  Always.
//